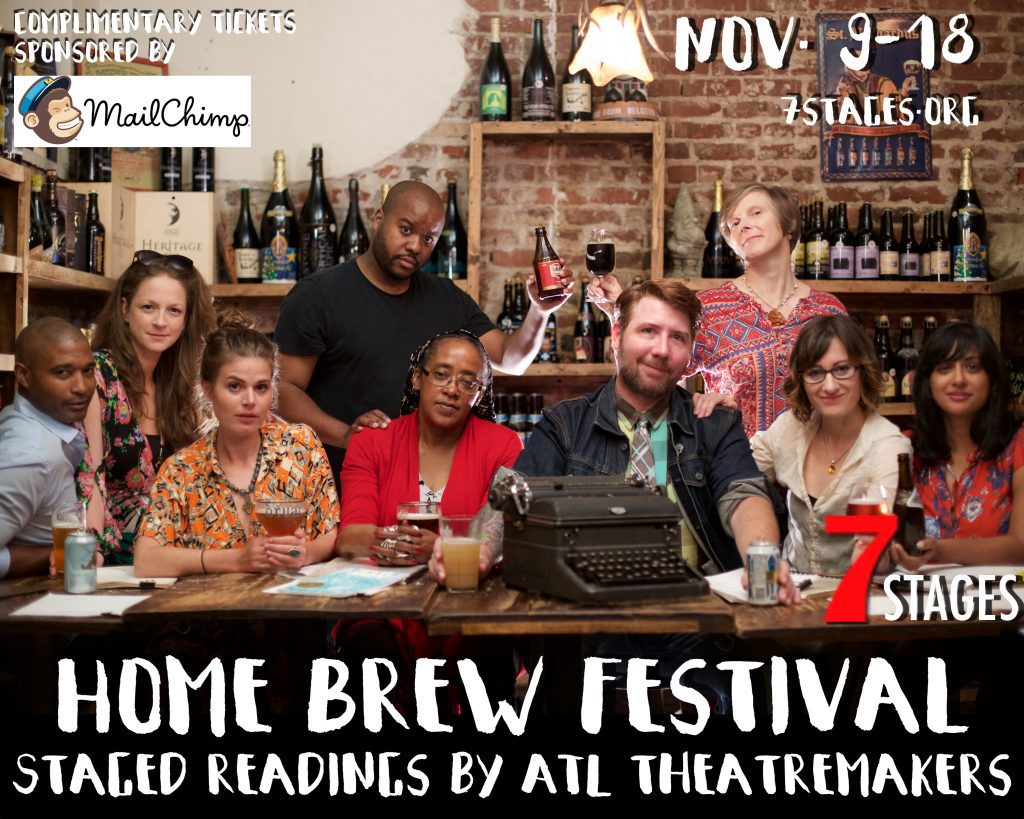 7 Stages presents Home Brew Festival
by various artists
November 9-18, 2017
7 Stages has been home to the development and premiere of dozens of plays including work by Topher Payne, Theroun Patterson, and Suehyla El-Attar. Be the first to hear next year's blockbuster as we present a two-week festival of new play readings and guest artist workshops sure to get your imagination brewing.
Entry to all Home Brew Festival events is complimentary thanks to the generous support of 

Thursday, November 9th at 8pm-Mark Kendall presents Black History Hour
Looking at the past, present, and future, Black History Hour will explore the strategies black people have used to protect their mental health and self esteem in the face of adversity. This solo sketch comedy show will look at the effects these strategies have on African-American communities, families and individuals. How have these strategies made us stronger? What are things we can change or improve upon?
Reserve your tickets for Black History Hour HERE
Friday, November 10th at 8pm-Theroun Patterson presents Red Summer
In the summer of 1919, a young black teenager stepped on the sands of a white's only beach. Was it a mistake, or an act of defiance? What followed shaped the destinies of two families through history into the present day, where the descendants are about to meet again on a corporate battlefield in a world much changed, and yet not at all. As protests over the killing of a black teenager threaten to turn violent outside, three people confront the questions: What price must we pay to become a post-racial society? Can we ever truly make peace with the deepest of wounds?
Featuring
THEO-Anthony S. Goolsby
YVETTE -Vallea E. Woodbury
YOUNG WHITE MAN/ALEX REESE-Aaron Strand
BLACK BOY-Enoch King
EIRENE  -Maria Rodriguez-Sager
MAELSTROM-Tara Ochs
Stage Directions-Maggie Birgel
Directed by- Amber Bradshaw
Reserve your tickets for Red Summer HERE
Saturday, November 11th at 8pm-Daryl Fazio presents Deer Play
When charismatic Mississippi good ol' boy and champion deer hunter, Oscar Moak, one day doesn't seem able to shoot, he and a talkative doe take his family on a wild ride. While Oscar shuts down, the doe tries to coax him out. Meanwhile, Oscar's father loses the will to fight, his mother takes renovations into her own hands, and his devoted wife discovers adrenaline. If you're afraid to die, does it also mean you're afraid to live?
Featuring
OSCAR-Eric Clem
FRITZ-Rial Ellsworth
JEAN-Marianne Fraulo
DOE-Danielle Thorsen
COURTNEY -Sarah Elizabeth Wallis
Various Voices/Stage Directions-Brandon Conner Partrick
Movement Deviser-Ashley Anderson
Reserve your tickets for Deer Play HERE
Thursday, November 16th at 8pm-Rachel Parish presents Revolt. She Said. Revolt Again. by Alice Birch*
Hilarious. Tragic. Muscular. Mind expanding. Revolt. She Said. Revolt Again by Alice Birch is about as timely a play as you can get. A feminist call to action, this play reveals those questions that are just at the tip of your tongue, in the corner of your eye and creeping up your spine. Get ready for a wrestling match of language, behavior and societal norms which will leave you feeling surprised by your own surroundings and energized for what is yet to come.
Reserve your tickets for Revolt. She Said. Revolt Again. HERE
Friday, November 17th at 8pm-Pam Joyce presents Dipika Guha's Art of Gaman 
It is the early 1940's when young Tomomi's steamer leaves Japan headed for San Francisco. Her arrival coincides with the first wave of west coast Japanese internment, so when an old man on board offers to arrange her marriage to his son who lives in New York, Tomomi knows she must accept. At once funny, intimate and deeply theatrical, The Art of Gaman is an account of one woman's struggle for independence and self-expression through her life and American history.
Reserve your tickets for Art of Gaman HERE
Saturday, November 18th- 
The Art of Activism: A Creators Summit from 11:30am to 1:30pm
Join us as for brunch (provided by Babs Midtown ) with all 7 of the Home Brew Festival lead participants! Each playwright/director will be giving a "Ted Talk" style presentation on a particular aspect of the creative process. Pre-registration not required, but is encouraged HERE. 
Topher Payne presents Angry Fags 2.0 at 2:00pm
Bennett is really trying to keep it together right now. He broke up with his boyfriend and moved in with his best friend Cooper. It's election season, and he's the speechwriter for Georgia's only gay state senator, who's engaged in a bloody campaign against a conservative darling. Then Bennett's ex is attacked in the parking lot of a gay bar. Bennett and Cooper are informed by a police detective that the assault can't be classified as a hate crime. Because in Georgia, hate crimes against homosexuals don't legally exist. Their frustration and fear eventually turns to rage, as they realize that "acceptance" simply isn't enough they're still living in a society that relegates them to second-class status. They're not respected. They're not feared. It's time for that to change.
Reserve your tickets for Angry Fags 2.0 HERE
Theresa Davis presents Then They'll Tell You It's All In Your Head at 8:00pm
In her first scripted world premiere, Theresa Davis takes the stage as only she can: With her visceral words and embracing storytelling in a one-woman manifesto of what it means to be black, human, female, mother in America. Enter her world of a sanctuary of bars and stages, places where honest spirits haunt and share, where muses make the world make sense and assure her that she is walking in her purpose visible to all who choose to see. Intertwined with poetry from her new collection "Drowned: A Mermaid's Manifesto, with Sibling Rivalry Press, Davis makes it clear that these issues are not all in her head, and that NO, you cannot drown a mermaid.
Reserve your tickets for Then They'll Tell You It's All In Your Head HERE
*"Revolt. She Said. Revolt Again." is presented by special arrangement with SAMUEL FRENCH, INC.