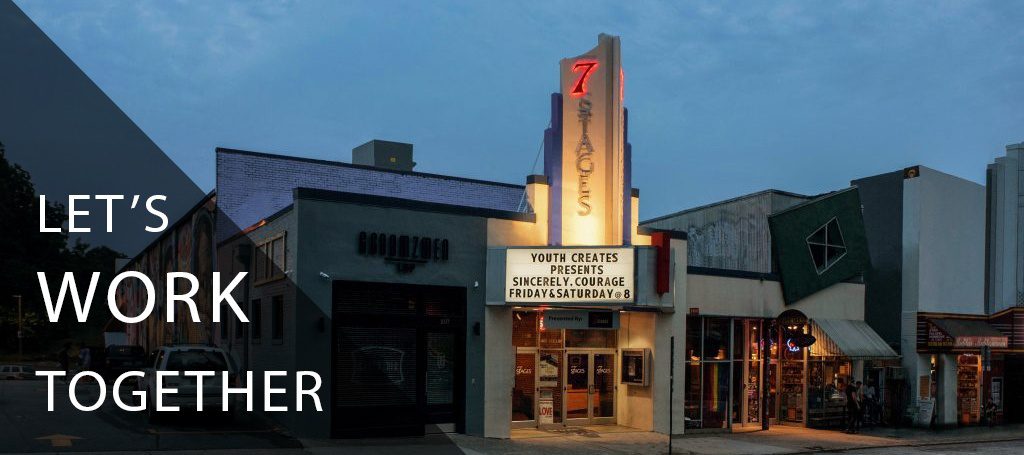 7 Stages is seeking a number of individuals part time and possibly a full time position to create a team of people to market to our community spreading the word about our various programs and events, work directly with patrons to manage the customer experience, manage our annual individual giving program, and assist with coordinating our educational programming. Individual job descriptions will be created in concert with qualified applicants based on skill sets and interests. 
Please send a cover letter (one page) telling us about you, your work experience, your knowledge of 7 Stages and our work, and what roles from the list below you think would be a good fit and why. Also, include a resume. References can be sent at a later date. Please indicate if you are seeking full time or part time employment and send to Employment@7Stages.org. No phone calls please. 
Compensation negotiable and ranges from $17.00/hour to $36,000/year plus benefits depending on duties and experience.
Time required ranges from a few hours per week to 40+ depending on roles and responsibilities. Please note box office hours will require nights and weekends. 
Marketing Director
Develop and oversee all aspects of the marketing plan. Manage the team of people to ensure long-range and short-term plan goals are met. Develop and oversee budgets. Coordinate paid advertising initiatives. Secure in-kind trade opportunities and sponsorships. Manage website updates. Coordinate digital and physical assets including photo/video shoots. Represent the organization at community events. 
Social Media Manager
Create and manage all social media platform plans. Create schedules and content for the various platforms to engage patrons for all of 7 Stages' programs. Create and schedule weekly eblast communications. 
Press Relations
Manage and develop all press relations. Pitch story ideas, oversee and manage interview requests, coordinate press releases. 
Data Strategist
Analyze and manage social media and google data. Develop adword strategies to maximize reach and impact. Oversee and analyze social media interest strategies to increase ROI. Develop A/B testing plans to ensure the most effective digital marketing strategies are implemented.