7 Stages houses two performance venues, a 200 seat Mainstage and a 90 seat Black Box. Both venues consist of stadium style seating with the stage as the floor of the room and are available for year round rentals of all types. 7 Stages typically rents both its facilities by the week, Monday through Sunday, with rates including the space and the equipment (labor not included). Rates vary based on season, availability, non-profit status, and mission fit. Daily rentals can sometimes be arranged under special circumstances such as dark nights. Friday or Saturday daily rentals are extremely rare but are possible if the requested date is within 6 weeks of inquiry and the space is available. Please view the information below for technical details and lists of included equipment.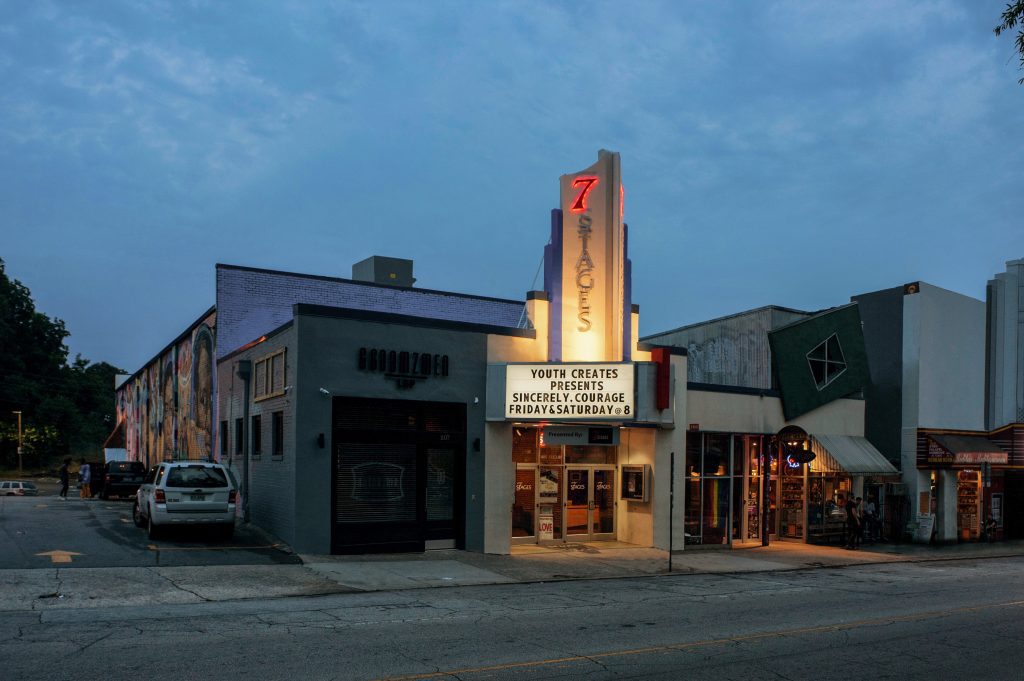 Looking for a special funding opportunity? Our friends at the Community Foundation for Greater Atlanta offers the A Place to Perform grant.
A Place to Perform provides grants to assist financially by helping nonprofit arts organizations gain access to performance venues so they can produce performing arts experiences for the public.
(Please note this is not a 7 Stages program and is in no way affiliated with 7 Stages. The criteria below is not a requirement to rent the facility.)
Criteria for your organization to be eligible for the A Place to Perform grant includes:
Must be classified by the U.S. Internal Revenue Service under Section 501(c)(3) of the I.R.S. code as a nonprofit, tax-exempt organization, donations to which are deductible as charitable contributions under Section 170 (c)(2) and the I.R.S. determination must be current
Must be registered with the Georgia Secretary of State as a nonprofit (click here to verify)
Must have a minimum two-year operating history after the date of receipt of its 501(c)(3) classification
Must have at least one full-time paid employee (paid minimum wage or more, working at least 35 hours a week) for the 12 months prior to submitting an application
To see the full details visit the Community Foundation for Greater Atlanta website