7 Stages houses two performance venues, a 200 seat Mainstage and a 90 seat Black Box. Both venues consist of stadium style seating with the stage as the floor of the room. The Mainstage has 157 fixed seats with additional seating to accommodate 200. The Black Box utilizes re-configurable seating in true black box style and while the maximum is 90 this creates a very small playing space. Events in the Black Box typically accommodate 60-70 patrons comfortably.
Both venues are available for year round rentals of all types. 7 Stages typically rents both its facilities by the week, with rates including the space and the equipment (labor not included). Rates range from $2,000-$4,000 for the Black Box and $4,000-$6,000 for the Mainstage. Rates vary based on season, availability, non-profit status, and mission fit. Daily rentals can sometimes be arranged under special circumstances such as dark nights. Friday or Saturday daily rentals are extremely rare but are possible if the requested date is within 6 weeks of inquiry and the space is available.
Please see the link below for technical details and lists of included equipment. For rental inquiries please contact Managing Director – Mack Headrick – at mack@7stages.org or 404-522-0236.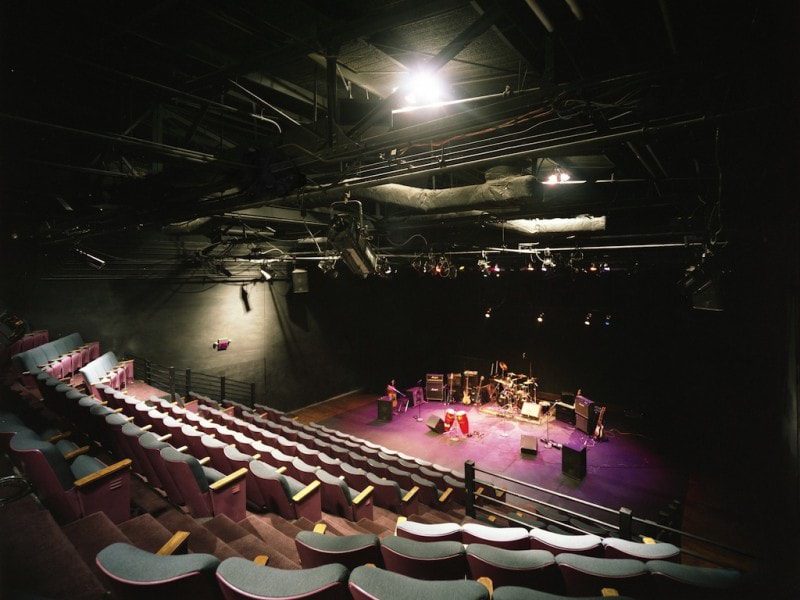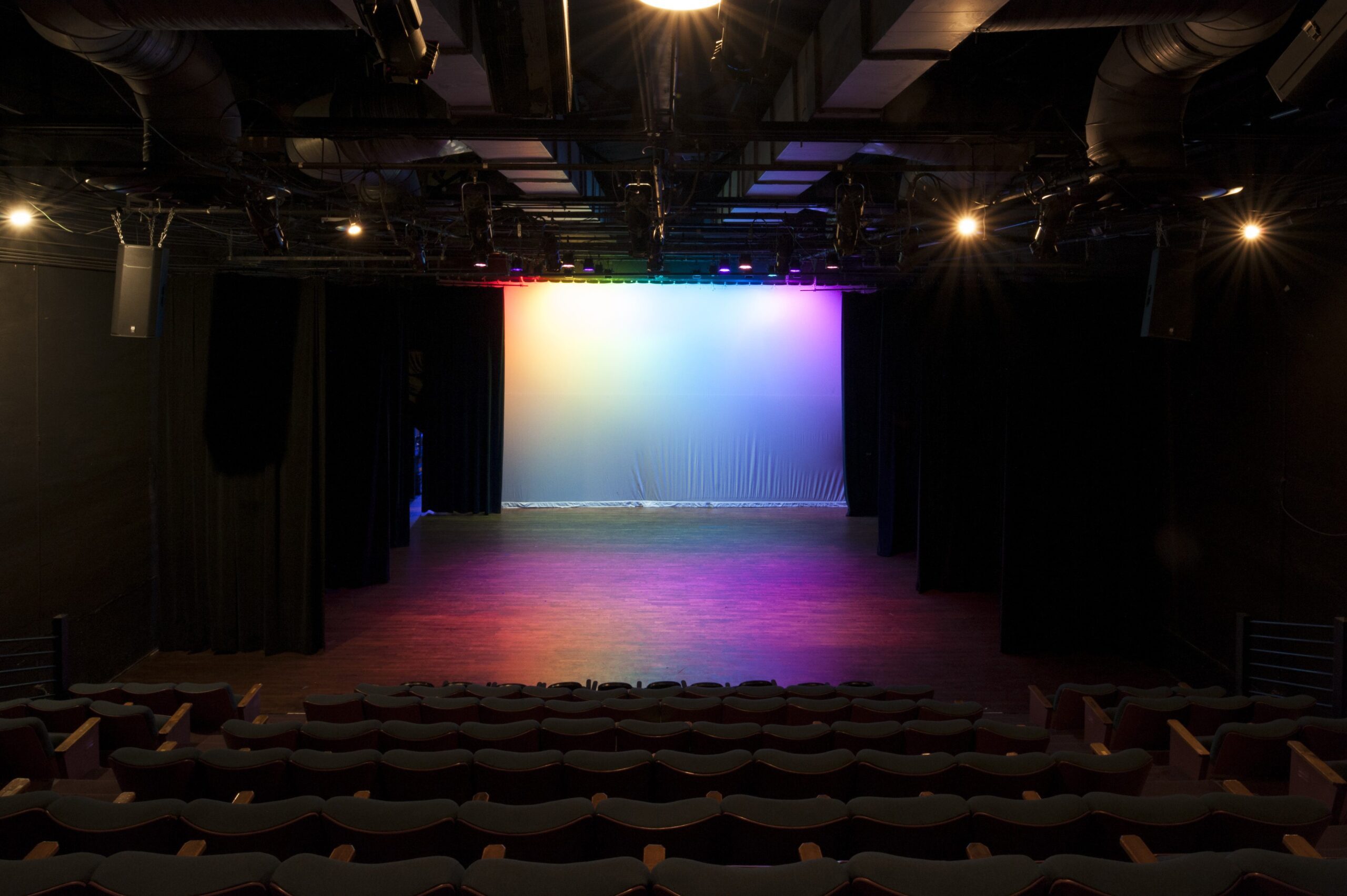 Looking for a special funding opportunity? Our friends at the Community Foundation for Greater Atlanta offers the A Place to Perform grant.
A Place to Perform provides grants to assist financially by helping nonprofit arts organizations gain access to performance venues so they can produce performing arts experiences for the public.
Criteria for your organization to be eligible includes:
Must be classified by the U.S. Internal Revenue Service under Section 501(c)(3) of the I.R.S. code as a nonprofit, tax-exempt organization, donations to which are deductible as charitable contributions under Section 170 (c)(2) and the I.R.S. determination must be current
Must be registered with the Georgia Secretary of State as a nonprofit (click here to verify: http://corp.sos.state.ga.us/corp/soskb/csearch.asp)
Must have a minimum two-year operating history after the date of receipt of its 501(c)(3) classification
Must have at least one full-time paid employee (paid minimum wage or more, working at least 35 hours a week) for the 12 months prior to submitting an application
To see the full details please visit
http://www.cfgreateratlanta.org/nonprofits/available-grants/a-place-to-perform/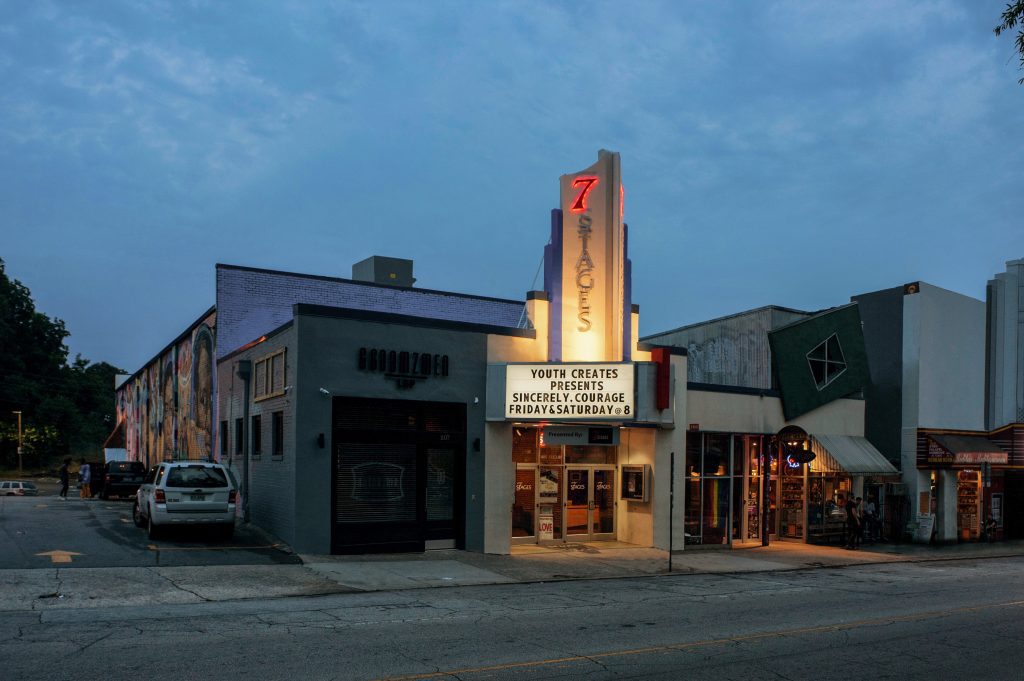 7 Stages also houses a visual art gallery and the Java Lords Coffeehouse and bar. Located in the heart of Little Five Points, it is central to many great drinking and dining options.
Equipment Included in the Rental per space unless otherwise denoted:
Lighting Board
Sound Board
2 House Speakers
Lighting Inventory (Stage Pin)
2 Onstage Passive Monitors (Mainstage Only)
Scissor Lift Access (Mainstage Priority)
Soft Goods (Mainstage Only)
2 Wired Mics
2 XLR Cables 25' length
2 Extensions Cords 25' length
2 Power Strips
15' Aluminum Scaffolding
Ladders

A-Frame

14' Aluminum
12' Wooden
10' Wooden
8' Aluminum

Extension

16' Aluminum
22' Fiberglass
Equipment NOT included in the Rental
Hand Tools
Power Tools
Hardware
Expendables

Gaff Tape
Gel
Glow Tape
Etc.
Extras (These items are as available and must be reserved in advance):
5k Lumen Projector: $300 a day/$1000 a week*

Inputs:

VGA
HDMI
DVI-I
S-Video
RCA Video

3k Lumen Projector: $150 a day/$500 a week*
Wireless Handheld Mic: $50 a day/$190 a week (only 1)
*Projectors come with power cable and 6' VGA cable only.
**The video source, any adapters or converters, or other type of cable (i.e. HDMI) must be provided by the renter.