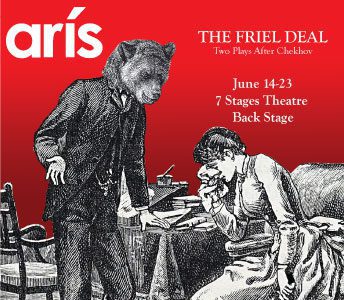 Arís presents
The Friel Deal:  Two Plays After Chekhov
An evening of two one-act plays by Brian Friel based on works by Anton Chekhov.
The Bear directed by Kathleen McManus:  A young widow has shut herself off from the worl to mourn her late husband.  Her solitude is interrupted by her scandalously rude neighbor, Gregory, a garrulous (but strangely attractive) bear of a man who turns her quiet life upside down!
The Yalta Game directed by Tim McDonough: A sexy, funny, romantic tale of passion and forbidden romance that will leave you meditating on the nature of love.
Dates & Times:
Thu 6/13 (preview) & Fri 6/14 at 8pm
Sat 6/15 at 2:30pm and 8pm
Tues 6/18, Wed 6/19, Thu 6/20, Fri 6/21, Sat 6/22 at 8pm
Sun 6/23 at 2:30pm
Purchase tickets HERE