Let's Talk About Race…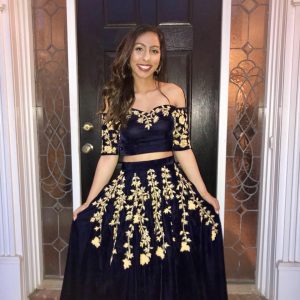 by Sophia Dhanani (7 Stages Intern, UGA c/o 2021)
So let's talk about race. Growing up as a Pakistani American, I've had my fair share of cultural and racial clashes. From seeing my dad get "randomly selected" for a security check at the airport to being asked to "say something in Pakistani,"  I always knew that even though I was born and raised in America, the color of my skin would always deem me as a foreigner and outsider to some. I accepted that people of color (POC) will inevitably have it harder in general, but I (naively) was not expecting it to interfere with my passion. During my sophomore year of high school, rumors were going around that the theatre department might produce the musical Hairspray. Though I was ecstatic at the thought of this show, I had an overwhelming realization. I was not white or black… so which side would I get casted for? My high school ended up not doing the show, but regardless it made realize that the color of my skin will place restrictions and limitations on even the most sacred and important aspects of my life: my art.  
Unfortunately, this is the case for many actors who are POC. In today's world, issues surrounding race and ethnicity continue to be relevant and prominent aspects of life and these issues carry over into the world of theatre, as well. The majority of roles seem to be written for and given to white actors. A recent study done by the Asian American Performers Action Coalition (AAPAC) in New York showed that 70% of all roles in the top 16 not-for-profit theaters on broadway were given to Caucasians. Only 17% were given to African Americans, 9% to Asian Americans, 3% to Latinos, and 1% to all others. The representation of people of color (POC) in theatre is ridiculously low. To say POC are under represented is an understatement considering the demographics of New York (only 44.6% of the population is Caucasian).
Moreover, most POC that are cast in shows are casted because the role is race-dependent. Only 2-5% of POC get casted for roles that are not specific to their race. So even though there are hundreds of parts that can be played by any race, the minorities are not being casted in them and well over half of the parts are going to Caucasian actors. This does not make much sense because America is a diverse land and the arts should reflect that, but clearly they are lacking.
Some companies and directors are aware of this and are actively trying to make their productions more diverse. Musicals like Hamilton have inspired POC and have influenced producers and directors to diversify and properly represent the people of America and the workers in the arts. But if non-white actors are being cast to simply check off the "diversity checklist" does this depreciate the validity of a POC's talent? In Broadway's 2013-2014 season, African American casting dropped from 21% to an unbelievably low 9%. This led to an outrage and an overall net loss for the industry. If companies start losing money because they are not casting inclusively, will they then begin casting non-white actors? And if so does this further depreciate the validity of a POC's talent? But maybe it's better that POC are getting casted, regardless of what the reasons may be, as opposed to not being casted at all. Perhaps after all is said and done, I hope us POC will begin to finally get the representation we deserve, without it being forced.
Here at 7 Stages we take pride in the fact that our theatre has been one of the most inclusive and diverse theatres since we opened 40 years ago.
http://www.playbill.com/article/coalition-releases-report-on-diversity-in-ny-theatre
http://worldpopulationreview.com/us-cities/new-york-city-population/
https://www.theguardian.com/stage/2017/dec/20/colourblind-casting-hamilton-west-end-debut