Heidi S. Howard (Artistic Director)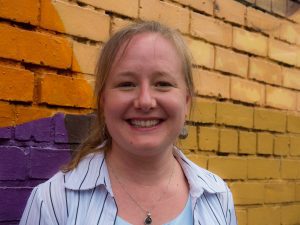 Heidi S Howard is 7 Stages' Artistic Director, previously serving as Education Director and Production Manager. Favorites include Metamorphafreaks YC13, Yours Truly ART YC11, A Piece of Ground YC10, If the Art Fits YC 07, A Bird of Prey, Maria Kizito, The Little Prince, and HAIR. She has toured throughout the USA as well as to The Netherlands, Belgrade Serbia, and to Shanghai China. She has collaborated with artists such as Joseph Chaikin, Walter Asmus, Dijana Milosevic, Nesa Paripovic, Pearl Cleage, Topher Payne, Eric Ehn, Jim Grimsley, Robert Earl Price, Anna Tismer, Karolina Spaic, Scott Turner Schofield, and Del Hamilton. She is the founder and director of 7 Stages' Youth Creates, a training and performance program for teenagers. After 7 years of bringing international teachers and students from Serbia, Holland, Israel, and Belarus, The Holland Exchange continues with a 2-week creative process with YC and ArtQuake youth in Holland.  While focusing on creating original devised performances with ensembles, she thrives as director, writer, guide and mentor with a variety of emerging artists, schools and community groups.  She is the National Performance Network representative, serving as the Southern Regional Desk while organizing the present program at 7 Stages. She serves on the Board of Directors of The Atlanta School and is an Artistic Associate to Synchronicity and a part of their Playmaking for Girls program.  Graduating from Stetson University, she has also studied directing with the Lincoln Center Director's Lab and at the DAH Laboratory International Training Program in Belgrade Serbia. She received the '07 TCG Observership and the '08 TCG Future Collaborations grant to return to The Netherlands and in '10 traveled to Serbia on the TCG International Travel Grant. Her love of theatre and continuing urge to surround herself with artists has allowed her to create, teach, design, produce, tech and stage manage with several other companies and artists such as Georgia Ensemble, The Object Group, Java Lords, the Jamaica Cultural Alliance, Theatrical Outfit, Out of Hand, and angelworks sma. "Theatre is a collaborative sport, when we reach across the table and create together, we remind ourselves that anything is possible regardless of our differences."
Mack Headrick (Managing Director)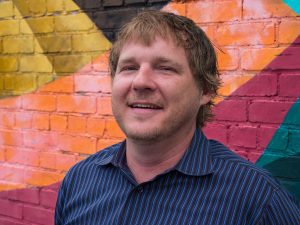 Mack Headrick has been with 7 Stages in many different capacities for over a decade. Some of the highlights of his career with 7 Stages include working with Joseph Chaikin on several productions, acting as advisor for Stacy Klein and Double Edge Theatre, touring with Dah Teatar for the co-production "Alice and Kafka are Dead; Long Live the Rosenbergs" and travelling to Shanghai for the National Theatre Festival with "The Chairs". Mr. Headrick first fell in love with the transformative power of theatre in High School and subsequently attended Florida School of the Arts. He has attended many workshops, seminars, and conferences across the country and currently serves on the board of two organizations, Sideways Contemporary Dance and Atlanta Intown Theatre Partnership. In addition to managing the two theatre facility Mack also has had the opportunity to work with and for many of 7 Stages' renters including Synchronicity, Sideways Contemporary Dance and Project 7. He would like to thank Del Hamilton and Faye Allen, co-founders of 7 Stages for their support and guidance over the years. None of us would be here if it weren't for your vision and tenacity. Thank you for helping to make Atlanta the thriving arts center it is today.
Michael Haverty (Co-Artistic Director)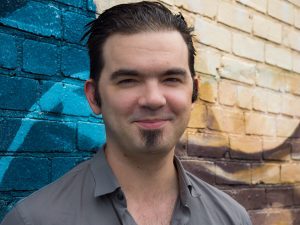 Michael produces, writes and directs multidisciplinary performances combining video technology, puppetry, object theatre and visual spectacle. Favorite productions include 'The Navigator', 'The Breakers', 'The Colour of Her Dreams', and 'Red Badge of Courage'. Michael served as an artistic associate at the Center for Puppetry Arts (2002-'12 ), performing in over twenty shows, touring internationally, writing and directing puppet theatre for adults/teens/the very young. Program director of Xperimental Puppetry Theater (2004-'13), supporting and developing the work of emerging puppetry artists in Atlanta. In 2012 Michael founded The Object Group, an ensemble devising interactive performances for the High Museum, Georgia Aquarium, festivals and public spaces. Michael curates the annual Curious Encounters festival of interactive performance at 7 Stages. Grants received from NEA, TCG, Jim Henson Foundation, Irish and Israeli Consulate, Puppeteers of America, and Meet the Composer Foundation. Michael's productions have been presented at the 2009 and 2011 National Puppetry Festival. TCG Future Leaders grant ('11). Princess Grace Foundation-USA fellow ('12). MacDowell Colony and Yaddo residencies. Michael has written and directed his original productions for the Alliance Theatre, Actor's Express, Dad's Garage Theatre, the High Museum of Art, the Georgia Aquarium, and teaches at Kennesaw State University.
Caroline Huftalen (Marketing Director)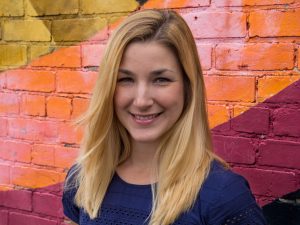 Caroline Huftalen is a writer, theatre obsessive, and Marketing Director at 7 Stages Theatre. She previously worked as the marketing and public relations manager at Horizon Theatre Company. Caroline is the founding editor of IvyHallReview.org, the literary journal of SCAD Atlanta, and Buskingseams.com, where she covered the literary and theatre scene in and around Atlanta for two years. Caroline has received numerous awards for her writing including the Gold Circle Award from Columbia in 2013.
Lito Tamez (Production Manager & Technical Director)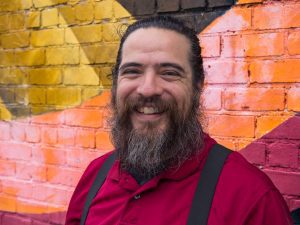 Lito is the Production Manager and Technical Director for 7 Stages. He is a professional technical director, designer, and fight director.  He has traveled and worked around the southeast as a technician and fight director.  Lito received his B.A. from Asbury College and his M.A. from Louisiana Tech University.  He is an Advanced Actor Combatant in the Society of American Fight Directors.
As a technician, Lito has worked in various positions at regional and educational theaters.  He has served as the technical director for Horn in the Westoutdoor drama and the Camp Florida Rep.  Also he has worked as the master carpenter for Birmingham Children's Theatre and Florida Repertory Theatre.  Lito's scenic design credits include West Side Story at the Fabrefaction Theatre Conservatory, Beauty and the Beast Jr for Camp Florida Rep.  His lighting design credits include Three Musketeers for Woodford Theatrical Arts, Thoroughly Modern Millie Jr. at Camp Florida Rep, and Young Abe Lincoln at Birmingham Children's Theatre.  Some recent fight direction credits are West Side Story at the Fabrefaction Theatre Conservatory, Macbeth at the Altamont School, and three different adaptations of Peter Pan.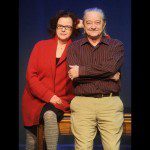 Del Hamilton & Faye Allen (Founders)
As co-founder of 7 Stages, Del has been a part of the company since its inception in 1979. As Artistic Director, he has directed over 70 productions at 7 Stages, including HUSH: Composing Blind TomWiggins, Athol Fugard's My Children! My Africa!, Susan Yankowitz's Night Sky, Macbeth, The Tempest, numerous plays by Sam Shepard. He has also acted in such notable plays as Beckett's Waiting for Godot, and Endgame; Carmen Kittel by Georg Seidel; Der Park by Botho Strauss, Fugard's A Place With the Pigs, Der Frosch by Herbert Achternbusch, CJ Hopkins' The Extremists and the original production of Jim Grimsley's Mr. Universe. Del directed an award-winning production of One Flew Over the Cuckoo's Nest at Teatr Nowy in Poznan, Poland; and also Blue Monk by Robert Earl Price won numerous national recognitions in Johannesburg; and he has acted and directed at theatres in Atlanta, New York, London, Paris, Belgrade and Amsterdam. Del is the author of several plays and has received numerous awards, including the 1994 Mayor's Fellowship in the Arts and the 1992 Arts Alive Excellence in the Arts Award and Best Director for 2002 by Atlanta Magazine.
As an actor, Faye Allen has performed: The Little Girl in the Mama Dada Trilogy by Del Hamilton, Josephine in Josephine: the Mouse Singer by Michael McClure, Lucy Brown in Three Penny Opera by Bertolt Brecht, Miami in Seduced by Sam Shepard, Stage Manager in Catastrophe by Samuel Becket, Officer Miller, in Mr. Universe by Jim Grimsley (1987), Witch in Macbeth by Shakespeare, Lulu in The Dutchman by Amiri Baraka, Frau Schaller in Carmen Kittel by Georg Seidel, Hannah in The Park by Botho Strauss, Mrs. Tabori in My Mother's Courage by George Tabori, Nell in Endgame by Samuel Beckett, Agnes, in A Delicate Balance by Edward Albee and Hallie in Buried Child by Sam Shepard at The English Theatre Berlin, Germany.
Her set design credits include: HUSH: Composing Blind Tom Wiggins by Robert
Earl Price, Maria Kizito by Erik Ehn, Waiting for Godot by Samuel Beckett, Master Harold…and the boys by Athol Fugard, Rockaby by Samuel Beckett, Krapp's Last Tape by Samuel Beckett, The Little Prince by Antoine de Saint Exupery and The Extremists by C.J. Hopkins (English Theatre Berlin, Germany) She is delighted to have the opportunity to design Mr. Universe. Most recently she designed All Blues by Robert Earl Price, this past summer at Washington College in Maryland.
Board of Directors
SHAADI EMAMI-MARAND
Board Chair
Account Executive
Out Front Media
ANSON ASBURY
Vice Chair
Attorney
Asbury Law Firm
MICHELE TEDESCO
Board Secretary
Franchise owner
GNC
ANDREW WILSON
Board Treasurer
Senior Vice President & General Manager, atlanta.net
Atlanta Convention & Visitors Bureau
GREGORY N. PIERCE
Executive Vice President & Chief Administrative Officer/CFO Atlanta Convention & Visitors Bureau
ANDJELA KESSLER
President & CEO
Incentive Travel & Meetings Inc.
L. NYROBI MOSS
CEO
Goddess Enterprises, LLC
STEPHEN ADAMS
Attorney
Seyfarth Shaw LLP
DEL HAMILTON
7Stages Co-Founder
FAYE ALLEN
7 Stages Co-Founder