Heidi S. Howard (Artistic Director)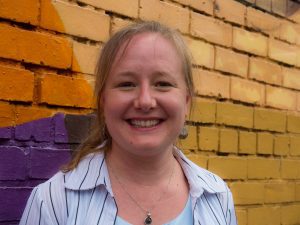 Heidi S Howard (Artistic Director of 7 Stages Theatre) served as Education Director and Production Manager for over a decade before taking the reins in 2014. She loves creating devised performances, directing new and classic plays, teaching arts-based curriculum, and collaborating with international, national, and local artists. Most recently she kicked off the 40th season by directing 7 Stages founder Del Hamilton in Waiting for Godot and is in development for the season finale HUMAN: A Citizen's Encounter. Directing highlights include White Woman in Progress with Atlanta-based Tara Ochs, Lauren Gunderson's The Revolutionists, Suehyla El Attar's The Doctor, Devil, & my Dad, and Michael Molina's Mass Transit Muse. She has toured throughout the USA as well as to Israel, The Netherlands, Serbia, and China. Notable collaborators include Joseph Chaikin, Walter Asmus, Dijana Milosevic, Nesa Paripovic, Pearl Cleage, Sean Dorsey, Topher Payne, Eric Ehn, Jim Grimsley, Robert Earl Price, Mondo Bizarro, Anna Tismer, Karolina Spaic, Lydia Stryk, Sarah Gubbins, Scott Turner Schofield, and Del Hamilton.
She is the founder and director of 7 Stages' Youth Creates (YC), a training and performance program for teenagers creating profound original productions each summer, now celebrating 16 years. The Holland Exchange, an international extension just celebrated 7 years and the Israeli, Belarusian, and Romanian exchanges are well underway. Organizing all education and outreach programs at 7 Stages, her goal is to create a brave space for vital conversation while designing curriculum based in school residencies orchestrating artistic responses to literature by connecting individual's everyday life to the creative process. Further, her program, Art of Activism is a community dialogue that takes place over a shared brunch discussing difficult topics in society often tied to the season's productions.  She is an Artistic Associate with Synchronicity Theatre, served on the Board of The Atlanta School, is a National Performance Network representative, and serves on the Theatre at Emory Board. Graduating from Stetson University, she studied directing at the Lincoln Center Director's Lab and the DAH Lab in Serbia. Her love of theatre and continuing urge to collaborate with new artists has allowed her to create, teach, design, produce, tech, and stage manage with many companies and artists such as Moving in the Spirit, Georgia Ensemble, The Object Group, Little Five Points Rockstar Orchestra, the Jamaica Cultural Alliance, Theatrical Outfit, Out of Hand, and angelworks sma. She has received support from TCG, Artslink, the Israel Cultural General and The Netherlands American Foundation to support cultural exchanges; NEA, Turner, Georgia Council for the Arts, the City of Atlanta Office of Cultural Affairs, and the Fulton County Arts Council to support original productions; as well as from the NEA-Big Read, Zeist Foundation, UPS among others to support education initiatives.
"When we create together, we remind ourselves that anything is possible regardless of our differences."
Mack Headrick (Managing Director)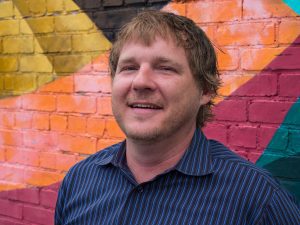 Mack Headrick has been with 7 Stages in many different capacities for over a decade. Some of the highlights of his career with 7 Stages include working with Joseph Chaikin on several productions, acting as advisor for Stacy Klein and Double Edge Theatre, touring with Dah Teatar for the co-production Alice and Kafka are Dead; Long Live the Rosenbergs and travelling to Shanghai for the National Theatre Festival with The Chairs. Mr. Headrick first fell in love with the transformative power of theatre in High School and subsequently attended Florida School of the Arts. He has attended many workshops, seminars, and conferences across the country and currently serves on the board of two organizations, Sideways Contemporary Dance and Atlanta Intown Theatre Partnership. In addition to managing the two theatre facility Mack also has had the opportunity to work with and for many of 7 Stages' renters including Synchronicity, Sideways Contemporary Dance and Project 7. He would like to thank Del Hamilton and Faye Allen, co-founders of 7 Stages for their support and guidance over the years. None of us would be here if it weren't for your vision and tenacity. Thank you for helping to make Atlanta the thriving arts center it is today.
Rahfeal Gordon (Marketing Director)
Rahfeal "RahGor" Gordon has come a long way from his hardships of being homeless in the streets of Newark, New Jersey – U.S.A. Now, Rah is recognized as one of the top international orators and leadership advisors for world leaders and global entrepreneurs who seek to effectively impact the global community through business, education, and politics. His lectures, keynote speeches, workshops, and books provide in-depth strategies in the areas of personal development, global leadership, and entrepreneurship to those aiming to achieve productivity and success. He has published 14 books, is the principal owner of Madison + Park, the Global Ambassador of the International Hub in Oslo, Norway, the co-founder of the Voices for World Peace Organization, and has been nominated and won multiple leadership and entrepreneurship awards. Rah is extremely stoked to enter the world of theatre with 7 Stages. He wants to thank his homie Alyssa for constantly inspiring him every day and Mack and Heidi for giving him this position in which he can showcase his art, marketing. http://www.rahgor.com/
"Your location is not your destination"
Austin Kunis (Technical Director/Facilities Manager)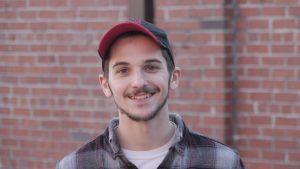 Austin is an Atlanta native who started his theatrical career by working for local haunted houses and drag shows. He received his bachelors degree in Theatrical Design and Production from Georgia State University. After graduating, Austin worked as a member of the Props and Carpentry Department for Cirque du Soleil's Zumanity as well as for Carnival Cruises as the Backstage Manager onboard the Carnival Freedom. Once back in Atlanta, he was the Technical Director for Out Front Theatre Company and worked at Stone Mountain Park as a Stage Manager and Production Team member.
Alyssa Karounos (Patron Services Manager/Box Office Manager)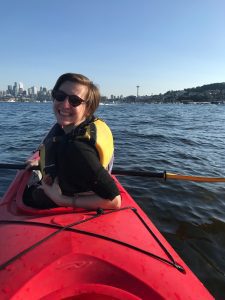 As a Pennsylvania Yankee, Alyssa's first crush was on Benjamin Franklin and her first love was theatre. After Alyssa graduated from her performing arts charter high school as a theatre major, she made her pilgrimage to the Pacific North West to be closer to other vegans and composters. She graduated from the University of Washington in Seattle in June 2017 with a Bachelors of Arts in Drama and Comparative History of Ideas (which is definitely a real major). Her thesis was on the effects political satire has on the audience and she wrote a one-woman show which she directed herself in called I Can See Jersey From My House. Alyssa moved to Atlanta to pursue her career as a comedian, writer, and performer, as well as her love of theatre administration. Currently she performs improv and sketch comedy around town and is busy producing a webseries she wrote about her life called Theatre Makers. She feels so fortunate and grateful to work at 7 Stages, a place that is truly a home for artists.
Dalyla McGee (Education Associate/Box Office Staff)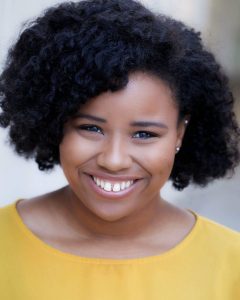 Dalyla is an Atlanta born producing theatre artist with a heart for global work! Holding a BS in Anthropology & Human Biology with concentrations in Theatre Studies from Emory University, Dalyla combined her zeal for people, international cultures, and developing community in uplifting unique voices and stories with the theatre-making process. Her professional adventures continue partnerships across local Atlanta stages as an teaching artist, director, actor, and playwright, in addition to internationally with a personal favorite for her development of STEAM youth program "Voices of Creation" in Jacmel, Haiti with hosting partner BRITE Initiative. It's no wonder Dalyla found herself quickly at home with 7 Stages Theatre! Dalyla largely has contributed to the 7 Stages Education programs both in Atlanta and Holland since 2016.
Katherine Neslund (Production Associate)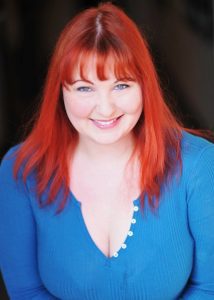 Katherine "Katya" Neslund graduated from Center for Creative Arts as a Musical Theatre major.  She interned at The Chattanooga Symphony and Opera Association as lead dresser and costuming assistant. Katherine became a regular on the Chattanooga Theater Centre stage as well as a summer camp councilor and teacher, as well as assistant director and costume assistant on productions.  She graduated with honors from Georgia Perimeter College with a degree in Technical Theatre.  Her Atlanta Stage Manager debut was for Straightaway Dangerous by Gene Gabriel Moore's company Not Merely Players in 2003, which was directed by David Klein.  She then began stage managing and costuming regularly for local circus productions, club nights, as well as for her company Syrens of the South. Katherine joined 7 Stages in 2012 as Stage Manager for Dracula: The Rock Opera, directed by Del Hamilton. In 2013 she debuted as a Lighting Designer for Lady Lay, directed by Heidi S. Howard. She has worked at 7 Stages for many seasons and rental shows since then. www.katherineneslund.com
Del Hamilton & Faye Allen (Founders)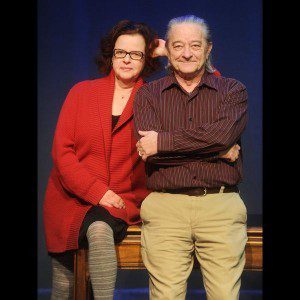 As co-founder of 7 Stages, Del has been a part of the company since its inception in 1979. As Artistic Director, he has directed over 70 productions at 7 Stages, including HUSH: Composing Blind Tom Wiggins, Athol Fugard's My Children! My Africa!, Susan Yankowitz's Night Sky, Macbeth, The Tempest, and numerous plays by Sam Shepard. He has also acted in such notable plays as Beckett's Waiting for Godot, and Endgame; Carmen Kittel by Georg Seidel; Der Park by Botho Strauss, Fugard's A Place With the Pigs, Der Frosch by Herbert Achternbusch, CJ Hopkins's The Extremists and the original production of Jim Grimsley's Mr. Universe. Del directed an award-winning production of One Flew Over the Cuckoo's Nest at Teatr Nowy in Poznan, Poland; and also Blue Monk by Robert Earl Price won numerous national recognitions in Johannesburg; and he has acted and directed at theatres in Atlanta, New York, London, Paris, Belgrade and Amsterdam. Del is the author of several plays and has received numerous awards, including the 1994 Mayor's Fellowship in the Arts and the 1992 Arts Alive Excellence in the Arts Award and Best Director for 2002 by Atlanta Magazine.
As an actor, Faye Allen has performed: The Little Girl in the Mama Dada Trilogy by Del Hamilton, Josephine in Josephine: the Mouse Singer by Michael McClure, Lucy Brown in Three Penny Opera by Bertolt Brecht, Miami in Seduced by Sam Shepard, Stage Manager in Catastrophe by Samuel Becket, Officer Miller in Mr. Universe by Jim Grimsley (1987), Witch in Macbeth by Shakespeare, Lulu in The Dutchman by Amiri Baraka, Frau Schaller in Carmen Kittel by Georg Seidel, Hannah in The Park by Botho Strauss, Mrs. Tabori in My Mother's Courage by George Tabori, Nell in Endgame by Samuel Beckett, Agnes in A Delicate Balance by Edward Albee and Hallie in Buried Child by Sam Shepard at The English Theatre Berlin, Germany.
Her set design credits include: HUSH: Composing Blind Tom Wiggins by Robert Earl Price, Maria Kizito by Erik Ehn, Waiting for Godot by Samuel Beckett, Master Harold…and the boys by Athol Fugard, Rockaby by Samuel Beckett, Krapp's Last Tape by Samuel Beckett, The Little Prince by Antoine de Saint Exupery and The Extremists by C.J. Hopkins (English Theatre Berlin, Germany), Mr. Universe by Jim Grimsely and All Blues by Robert Earl Price at Washington College in Maryland.
Del and Faye are enjoying a lovely retirement in Portland, Oregon.
Walter Asmus
Dijana Milosevic
Suehyla El-Attar
Alex Greenfield
Jim Grimsley
Robert Earl Price
Scott Turner Schofield
Ismail 'Ibn' Connor
SHAADI EMAMI-MARAND
Board Chair
Advertising Consultant
OUTFRONT MEDIA INC
ANDJELA KESSLER
Co-Vice Chair
President & CEO
Incentive Travel & Meetings Inc.
NYROBI MOSS
Co-Vice Chair
CEO
Goddess Enterprises, LLC
ANDREW WILSON
Treasurer
Senior Vice President & General Manager, atlanta.net
Atlanta Convention & Visitors Bureau
MICHELE TEDESCO
Board Secretary
Franchise Owner
GNC
GREGORY N. PIERCE
Executive Vice President & Chief Administrative Officer/CFO
Atlanta Convention & Visitors Bureau
DEL HAMILTON
7 Stages Co-Founder
FAYE ALLEN
7 Stages Co-Founder