Finding love at The Threepenny Opera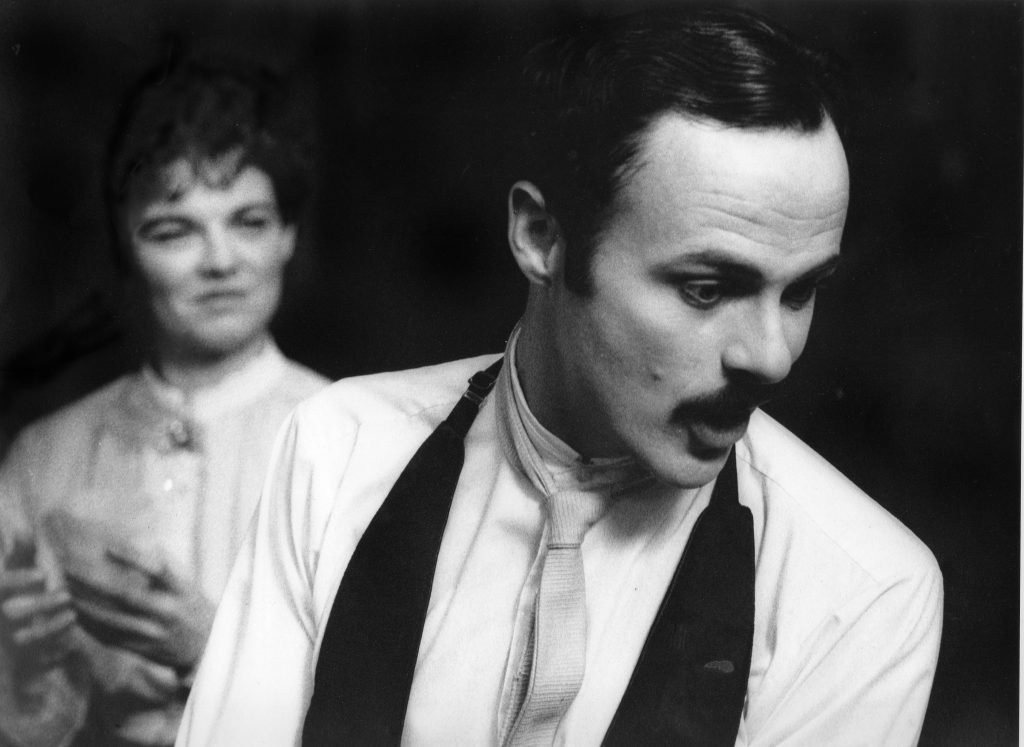 During our 1983 run of Brecht's The Threepenny Opera, two of the actors found more than just another stage credit. Nick Crabb and Sue Gilman found each other. Below is Sue's tale of finding her Mackie.
"I was one of the whores, Betty. The cast was so large and the show so complicated we rehearsed in small groups for several weeks – the whores together, the singers, of course, like that. So the first time the whole cast came together was with the choreographer, Joanne. She was introducing us to the big scenes where pretty much the whole cast is on stage. As she was putting us through some warm up exercises I was looking around the room to see who was there, who were all these people I would be working with. I knew a few of them, George Nikas and Tom Turbeville and Del and Faye, of course. My eye fell on a man I'd never seen before. Tall, very slim, dark hair. I thought, "Who is that!?" And that was it. My life was changed forever.
Turned out that was Mack the Knife aka Nick Crabb. I didn't fully know it at the time but I fell madly in love right there on the spot. And I hadn't even heard him sing yet! Oh Lord, that man could sing. I spent the run of the show falling more and more in love with him. He clearly liked me but was insanely hard to get. He had just ended an engagement and was at loose ends and a bit broken hearted. So that was part of it. I worked harder to get that man's attention than just about anything I've ever done in my life. I would show up anyplace I thought he might be. I would always make sure he was invited when I knew a group of us were going to the Pub after rehearsal (then it was the Little Five Points Pub; today it's the Corner Tavern). I was truly shameless. All the scenes we had together were completely thrilling, of course. Especially those little bits here and there where we actually touched or even danced together. I was a complete helpless fool for this man. By the end of the show we had become 'friends' but I was really worried about losing touch with him.
Thank God he and George cooked at the Pub so I could always find him there. It's so strange that we had never met. I had been working at Southern Theatre Conspiracy for a couple of years and he had been at 7 Stages for ages. We were right around the corner from each other, both doing theatre, I ate in the Pub all the time, I had known George, who was his best friend, for years, but, somehow, we never met. Later I did realize that I had seen him before. I think it was when 7 Stages was doing one of the Mama Dada plays and he had dyed his hair blue. I suddenly remembered I had seen this guy standing on the sidewalk on Moreland with blue hair one day.
I managed to continue to find ways to see him after the show closed and I remember the first time we kissed. He was living at Del and Faye's on Elmira. He and I had been out somewhere and I was dropping him off in front of their house. When he got out of the car he came around to the driver's window and kissed me on the lips. Honestly, I thought I was going to die. It's really embarrassing what I did. I whooped. Like a cowboy. I whooped and drove away. Anyway, I believe I remember correctly that it took me 8 months from that first sighting at the choreography rehearsal to, well, you know, commitment. After that it didn't take long before we were living together. We did lots of shows together for the next couple of years. Being with him was completely extraordinary. He was brilliant, magical, sensitive, sooo talented, and loved me without reservation (once I finally got him to realize I was the love of his life). I learned so very much about what it is to love another human being from him. He was a master at it. I only got to have him in my life for 3 short years. He died on July 3, 1987. Next summer will be 30 years. I've never really recovered, I guess. I miss him pretty much every day.
As for Threepenny. It's just weird isn't it? It's embarrassing to use the word timeless but I'm afraid it's true. Such a delicious romp through the vagaries of morality on all levels. Who's good and who's bad here? Who's got the power? Who's got the brains? Such wonderful cynicism. And the music is brilliant. After all these years, completely without provocation, a tune will just arrive unbidden in my mind. Always a pleasure and a delight. Not just because it is a path to Nick but because, to me, it's extraordinary work. Weill and Brecht – thank you!"
Thank you, Sue Gilman, for sharing this story with us!